maxRTE Insurance Discovery:

A Simple Way to Recuperate Uncompensated Care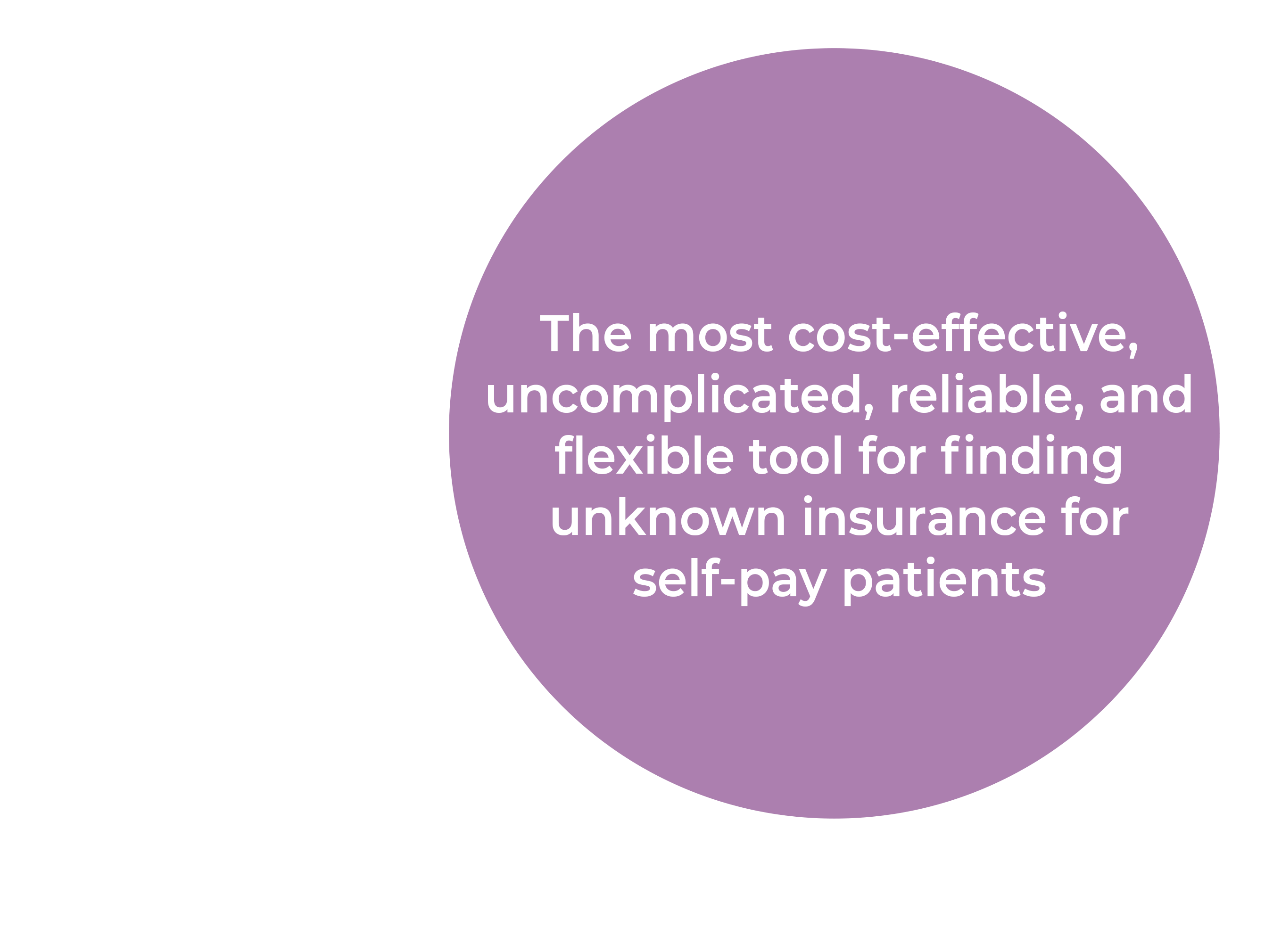 Finding unknown insurance coverage for self-pay patients accounts with maxRTE Insurance Discovery is the most effective way to combat the out-of-control cost of uncompensated care. Access payers in a single click, and learn in seconds about health insurance coverage/benefits that self-pay patients may not know they were entitled to. Our batch file option through EHR integration or file transfer via SFTP makes Insurance Discovery extremely easy to use.
Our proprietary technology locates a higher percentage of unknown commercial and exchange payer plans, workers compensation, TPA and Cobra coverage compared to other solutions. And our ability to unearth unknown government coverage, including Medicare (with Medicare Beneficiary Identifier [MBI]), Medicaid, and Tricare is unmatched. In addition, our Insurance Discovery technology and processes identify patient Insurance plans that are at risk of future remit take backs, giving clients the opportunity to prevent them.
See just how easy Insurance Discovery is to use.
Schedule a demo or submit a test file today.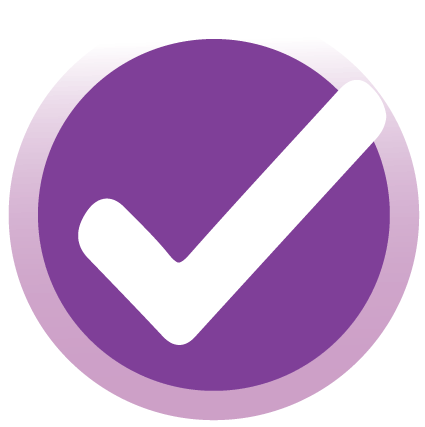 A three-hospital, 245-bed system in Northeast Georgia used Insurance Discovery for one year to find coverage for 4,649 self-pay patients for reimbursement of $3,473,407.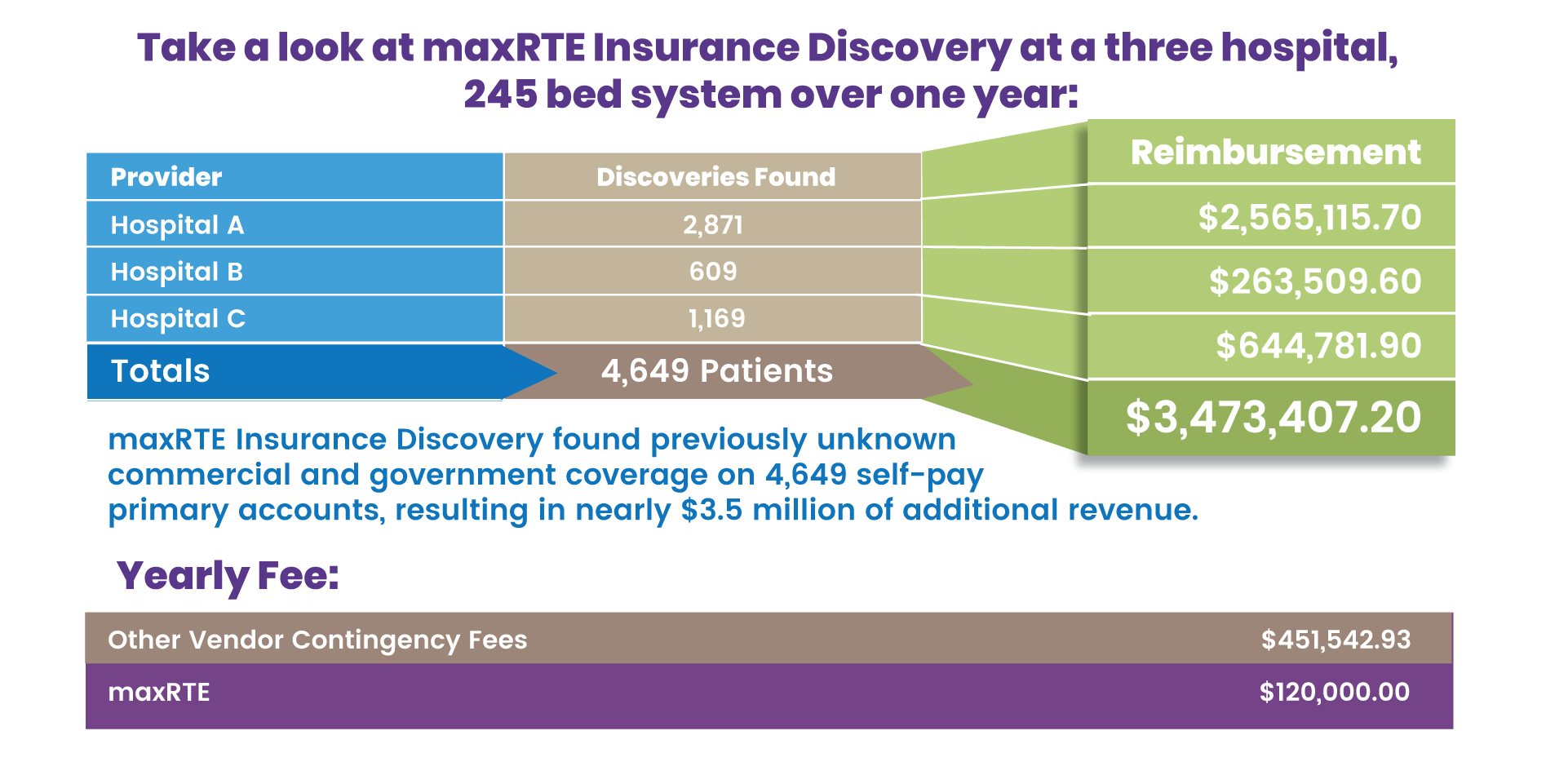 A 300-bed facility completed an insurance test file. maxRTE Insurance Discovery found 357 billable accounts, totaling over $852,000 in total charges. The facility was able to bill after final review, resulting in more than $250,000 in remits & previously unknown revenue.
BILLABLE ACCOUNTS FOUND
By maxRTE Insurance Discovery
196 accounts the provider billed – maxRTE Insurance Discovery found 357 billable accounts
BILLABLE CHARGES FOUND
By maxRTE Insurance Discovery
$596,015.60 in total charges the provider billed its patients – maxRTE Insurance Discovery found $852,520.11 total charges that the provider could have billed
PROVIDER REMITS RECEIVED
By maxRTE Insurance Discovery
maxRTE Insurance Discovery made it possible for the provider to receive $250,000 in remits
Best of the Bunch
Our proprietary algorithm technology and extensive knowledge of payer filing and retro-approval periods forges a solution that consistently outperforms other software in finding previously unknown coverage. In fact, it excels in every key area—value pricing, ease of installation, superior support, and flexible processing—as shown in the following chart: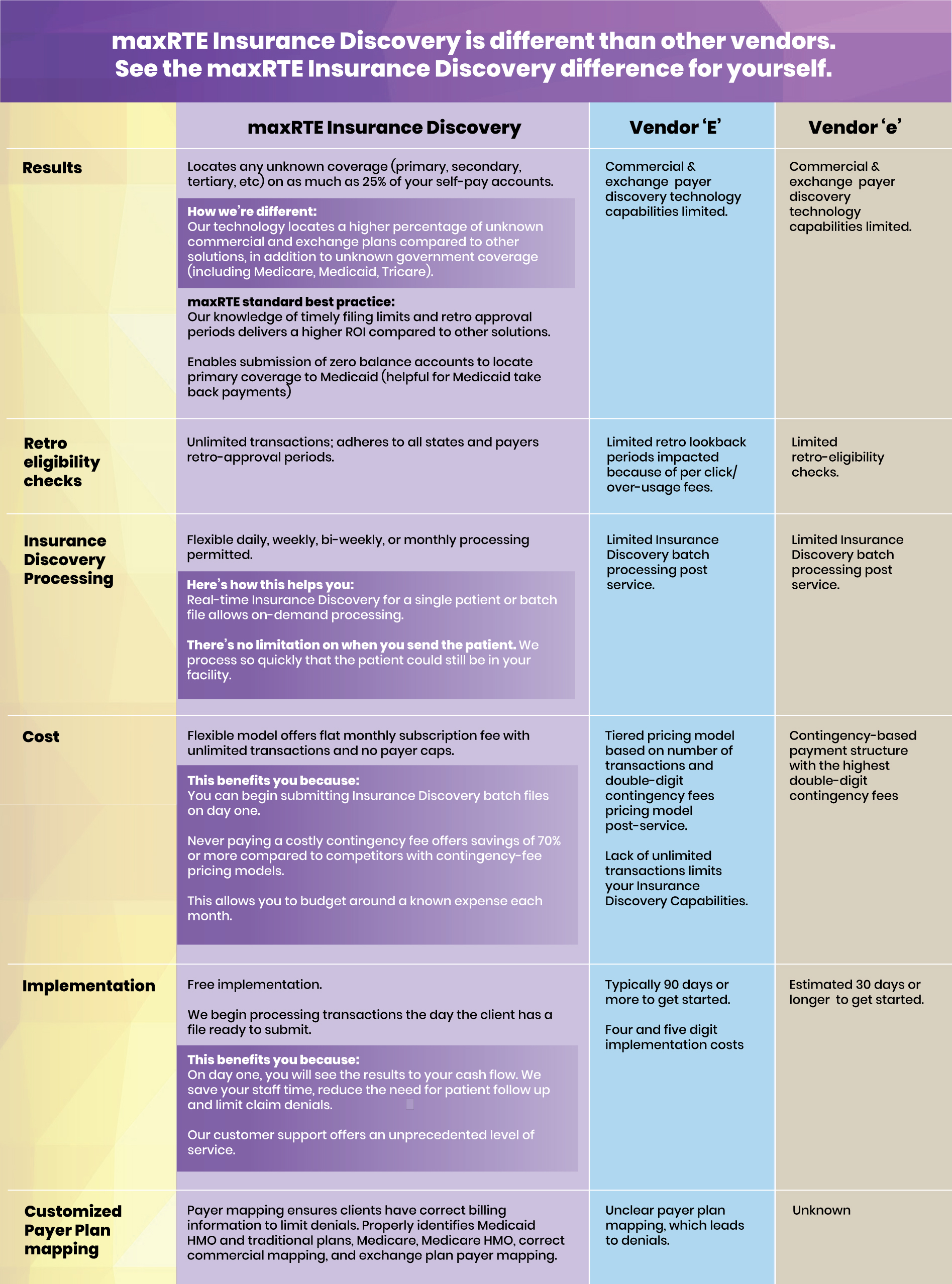 Easily Installed, Ready to Use in Hours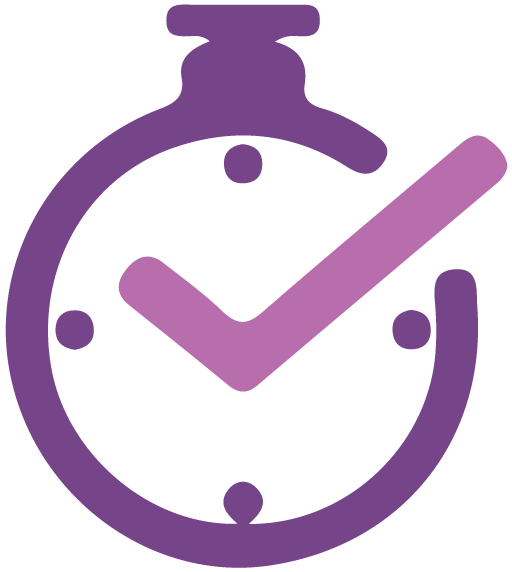 You won't have to wait days, weeks or months to start gaining the financial benefits of Insurance Discovery. Simply create a log-in to the maxRTE website, set up your NPI number and your usernames/passwords, and you're ready to look for coverage for self-pay patients.
Full integration with your EHR will take a bit longer, but your staff can continue to check eligibility the easy way without time-consuming payer calls or accessing their web portals.
Our on-line training and support are always available during regular business hours. If you happen to have an issue overnight, on weekends or holidays, we provide reasonable response times.
EHR integrations, payer connections and feature/function enhancements are all provided within the agreement covered under the flat monthly fee.
Advanced Technology & Data Protection
maxRTE is SOC2 compliant, and our website ensures secured access to our software when you need it and where you need It—for authorized employees using any device within your facilities or working remotely.
Our managed cloud service provider delivers a secure, compliant, flexible platform at the heart of a modern hybrid IT strategy that:
utilizes VMware-based virtualization of private blade servers and storage

 

provides up to 80% of compliance controls for FedRAMP, FISMA, SSAE18, HIPAA, PCI-DSS and Privacy Shield – GDPR.
Data Security:
We protect your data and assure availability by backing up our application server weekly to local and remote locations. Our web, application, and database servers are separate and backed up locally. Off-site backups are stored as image-level backups with Veeam Backup & Replication, a HIPPA certified backup provider.
In the event of extreme events (natural and otherwise), maxRTE's full data recovery site is located off premise in a secure data center requiring two levels of authentication for access: an electronic keycard and a PIN number matched to a biometric scan. To comply with requirements as a service provider of remote hosting information (specifically PHI), our data center partner is certified by SOC2, HIPAA HITECH, PCI DSS, among others.
maxRTE Discovery Insurance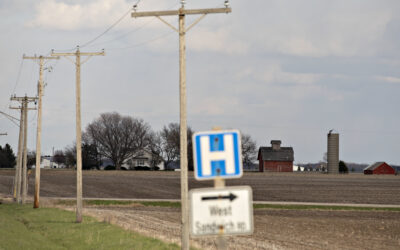 The COVID-19 pandemic continues to wreak havoc on America's healthcare system. But it is also disproportionately hurting rural hospitals.